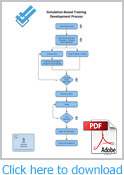 In creating over 30 simulation-based training applications for a Fortune 100 entertainment company, our staff has refined a process using years of experience that not only ensures accuracy and realism, but also complies with your procedures and policies.
Development time for each simulation varies according to the complexity of each project. Below is an outline of how the process works.
As each simulation for each client is custom developed, we adapt to the clients' needs. If our system needs to be installed on private servers, just the simulation technology is desired or perhaps additional features are desired, we can meet your needs.